Looking for a talented team that can convert your big idea into a mobile application? That can work closely with you from concept to completion and bring your vision to reality? FrontPoint has the team and expertise to deliver all of this and much more.
FrontPoint specializes in developing both mobile applications and websites on both the Android and iOS platforms. Our services include mobile strategy and research, wireframing, User Interface design, MVP (minimum-viable product) creation, development, launch, advertising, monetization and marketing on the app stores.
We can develop both native applications for iOS and Android, as well as cross-platform and hybrid applications that can work across both mobile platforms as wll as the web. The latter leverages frameworks such as Flutter, Ionic ore React Native to create apps that works seamlessly across all major mobile platforms and devices. All our websites and applications are developed using  responsive designs and themes that work across all devices, screen-sizes and form-factors.
With the increasing use of mobile phones and tablets, having a mobile-ready website or mobile application is no longer a nice-to-have option but a necessary and crucial part of online success for any business. So whether you are looking to create the next big mobile app or just making your current website mobile compatible, we can help you create one that meets your requirements and budget.
Mobile & Server Technologies Used
The following are some of the mobile technologies and frameworks we have expertise in and typically use.  These include : Kotlin and Java for Android and Swift for iOS for native applications. For hybrid apps we can use Flutter, React Native, Ionic, and Angular. 
The typical back-end server  technologies used include : Node.js. PHP, Lumen, Python, Java running on Apache or Nginx web servers.   atabases typically include Mongo , MySQL and  many third-party APIs.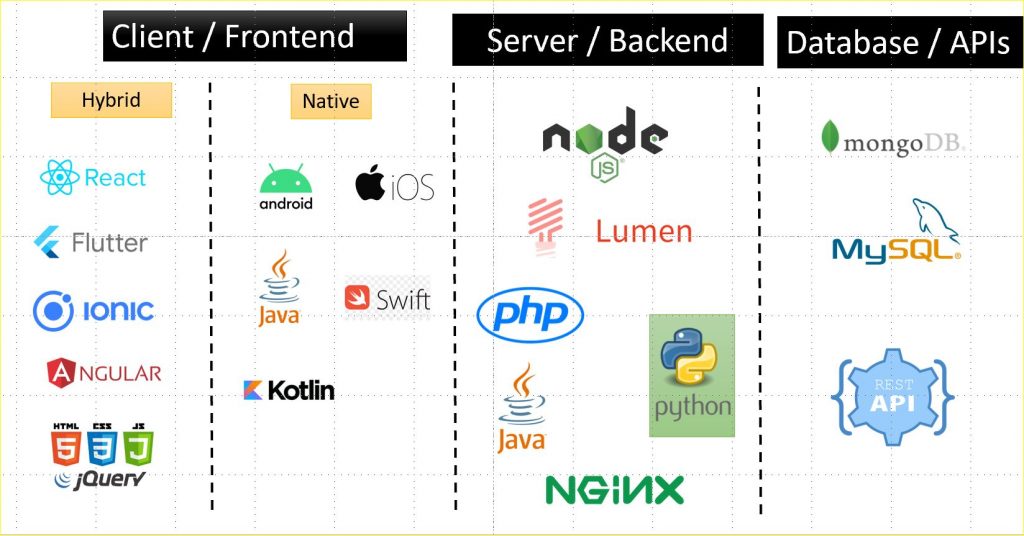 Have an idea for a mobile app? Let's talk