Web Design/Web Application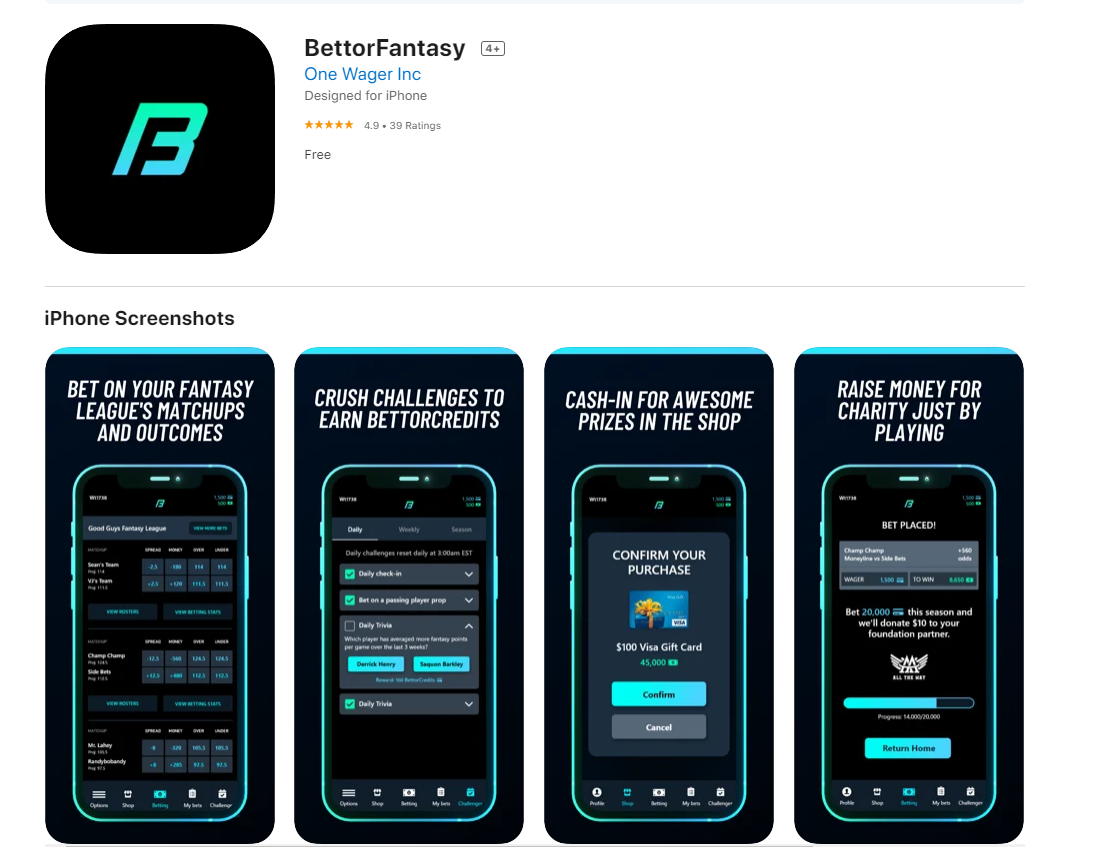 BettorFantasy emerged as a novel mobile app and platform designed to elevate the fantasy sports experience for enthusiasts worldwide. The platform gamifies fantasy sports, encouraging users to predict outcomes, undertake challenges, and earn credits, fostering an environment of excitement and competition. These credits hold real-world value, either being exchangeable for prizes or donatable to a favorite charity, all through a free-to-use platform. Our  role in this project was to serve as the overall technology advisor, guiding the technological architecture, aiding in prudent vendor selection, and steering project management to successful completion.
Objective
The central objective was to build a mobile app and platform that not only augments the fantasy sports experience but also adds a philanthropic dimension to the gaming landscape. The ambition was to create a platform that is secure, user-friendly, and offers a rich array of features enhancing the user engagement and experience in fantasy sports.
Roles and Responsibilities
Technology Advisory

Architecture Oversight: Entrusted with overseeing the technology architecture, ensuring a robust and scalable solution that can cater to a growing user base.
Vendor Selection: Played a pivotal role in vendor selection, ensuring the chosen vendors align with the project's vision and standards.

Project Management

Project Planning and Execution: Led the planning and execution phases, ensuring the project stays on track and meets all its milestones successfully.
Quality Assurance: Maintained a close eye on quality assurance, ensuring the end product adheres to the highest standards of quality and offers a seamless user experience.
Achievements
Enhanced User Experience: Successfully guided the development of a platform that offers an enriched user experience in the fantasy sports domain.
Philanthropic Integration: Pioneered in integrating a philanthropic dimension to fantasy sports, allowing users to donate their earnings to their favorite charities.
Conclusion
As the technology advisors for BettorFantasy, we meticulously guided the technological orchestration behind a platform that has redefined the fantasy sports landscape. Our expertise ensured the realization of a platform where the excitement of sports meets philanthropy, facilitating not just an enhanced gaming experience but also fostering a community of giving. The journey from conceptualization to execution was navigated with a focus on quality, user experience, and innovative integration, resulting in a platform that stands as a testament to innovation meeting philanthropy in the digital age.
iOS, Android, Flutter, PHP, MySQL, Amazon AWS,