Web Design/Web Application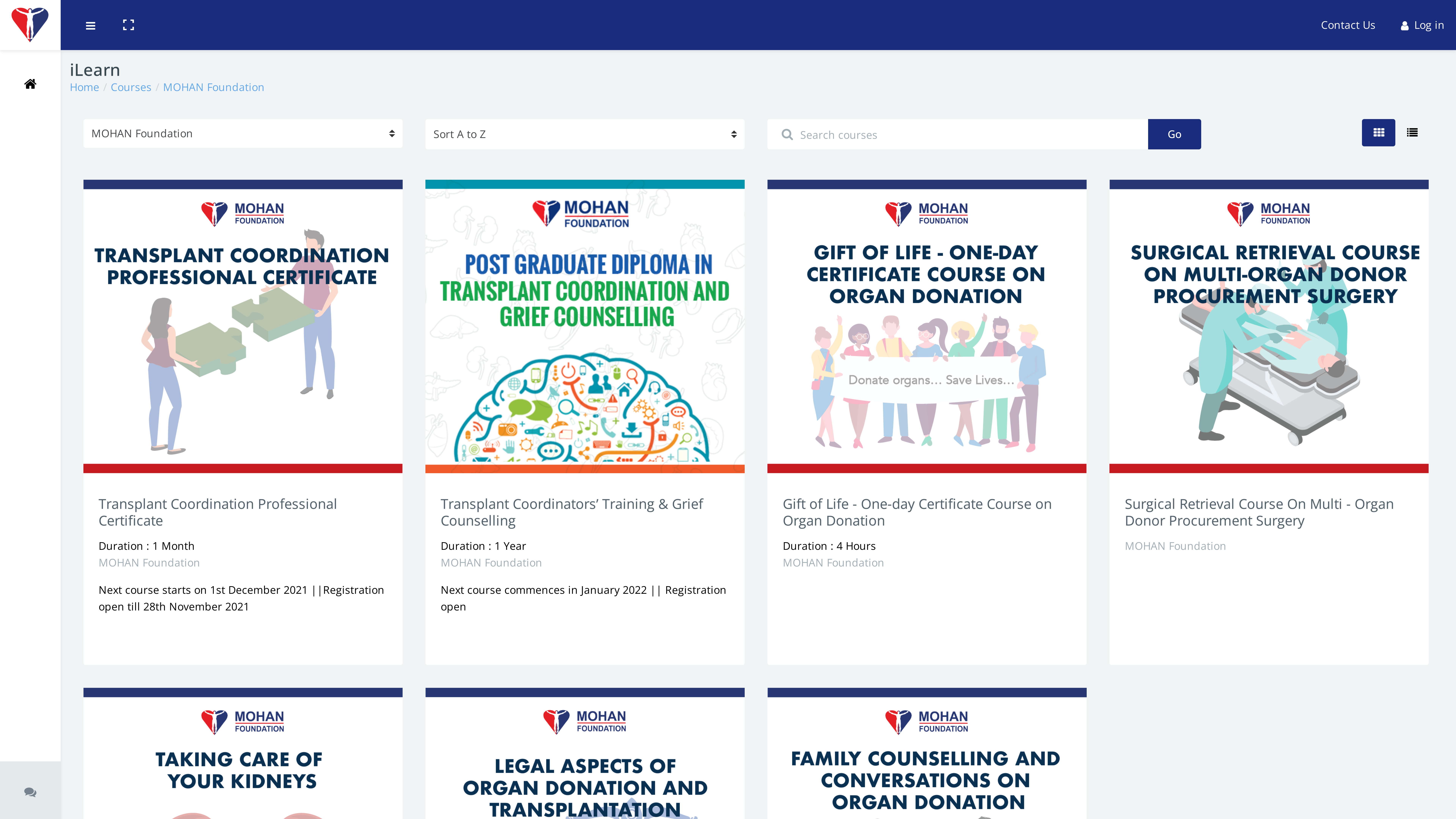 In partnership with the MOHAN Foundation, FrontPoint undertook the significant responsibility of being the solution provider for their online Learning Management System (LMS) and web hosting support, serving their esteemed Post Graduate Diploma in Transplant Coordination and Grief Counselling program. This one-year structured diploma offers a unique blended learning experience combining e-learning and contact sessions, designed especially for working healthcare professionals.
Objective
The focal point of this collaboration was to foster a seamless and enriched online learning environment that could facilitate a blend of e-learning and contact sessions, providing a platform that is both intuitive and user-friendly for healthcare professionals to pursue their postgraduate diploma without hindrances.
Roles and Responsibilities
Learning Management System (LMS)

Moodle LMS: Leveraged the Moodle LMS to build a dynamic and interactive learning environment, enhancing the e-learning component of the diploma program through structured courses, interactive content, and assessment tools.

Website Development and Maintenance

WordPress: Utilized WordPress for the development and management of a responsive and user-friendly website, facilitating easy access to course materials and information.

Infrastructure Management

Web Hosting Support: Employed a blend of Linux and Apache to establish a secure and stable hosting environment for the online platform, ensuring uninterrupted access for learners.
Load Balancing: Implemented NGINX and HAProxy to ensure optimal distribution of network traffic, maintaining high performance and availability even during peak usage times.
Achievements
Interactive Learning Environment: Successfully developed a dynamic and interactive learning environment, enhancing the e-learning experience for healthcare professionals.
Stable Infrastructure: Built a stable and secure infrastructure, providing uninterrupted access to learning resources and ensuring a seamless learning experience.
Conclusion
Through a harmonious integration of a variety of technologies, FrontPoint supported the MOHAN Foundation in bringing to life an online learning platform that stands as a beacon for healthcare professionals seeking advanced education in transplant coordination and grief counseling. The platform, crafted with meticulous attention to detail, not only facilitates e-learning but also organizes contact sessions, ensuring a holistic and enriching learning experience.
To construct a reliable and efficient online learning platform for the MOHAN Foundation, we engaged a selection of leading technologies, including:
Linux and Apache: These technologies formed the backbone of our hosting infrastructure, providing a secure and stable environment for the online learning platform.
WordPress: Played a pivotal role in the development and upkeep of a user-friendly website, facilitating smooth navigation and easy access to learning resources.
NGINX and HAProxy: Ensured optimal performance through adept load balancing, efficiently distributing network traffic to prevent server overloads and maintain high availability.
Moodle LMS: Central to our solution was Moodle LMS, which allowed us to craft an enriching e-learning environment, offering a range of features from course management to interactive content and assessment tools.