Web Application/Web Design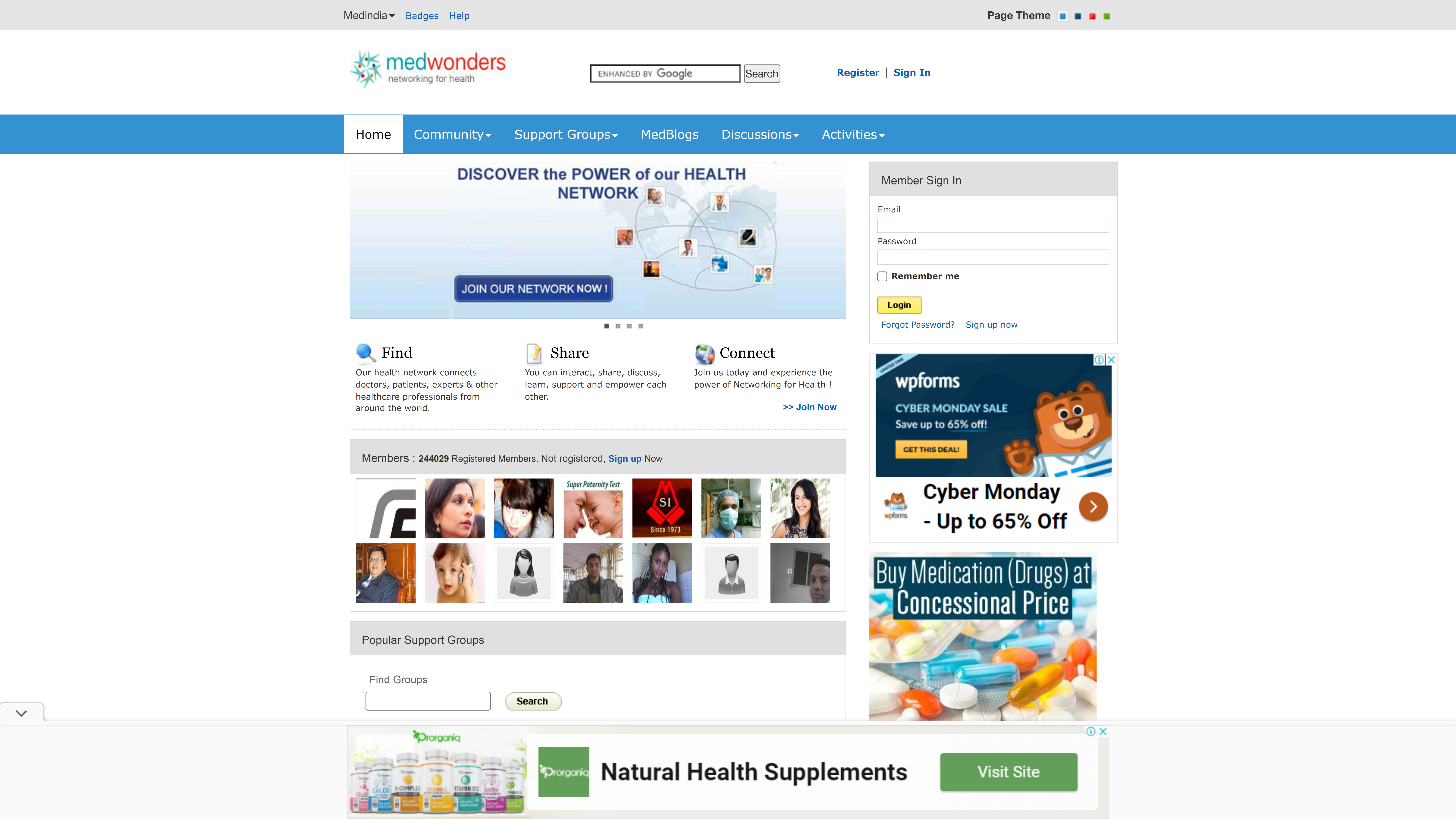 Overview
Medwonders.com stands as a prominent global community connecting consumers, patients, and doctors, boasting an impressive member base exceeding 240,000 individuals. The platform facilitates a nurturing environment through 440 support groups, forums, chat rooms, and personalized blogs and home pages. FrontPoint was entrusted with the pivotal role of spearheading the site's overall design and hosting, translating the vision into a dynamic and supportive online community.
Objective
The core objective was to fashion a digital hub that fosters connection and support among individuals from various walks of life, including patients and healthcare professionals. The goal was to build a platform where users can find support groups, engage in discussions, share experiences through blogs, and connect via chat rooms, all centered around health and well-being.
Roles and Responsibilities
Website Design

User Experience (UX) and User Interface (UI): Orchestrated a design that is both user-friendly and engaging, encouraging users to interact and share their experiences.
Community Features: Integrated a range of community features including forums, chat rooms, and support groups, fostering a supportive environment for members.

Backend Development

ASP and ASP.NET: Utilized for robust backend development, creating a secure and high-performance platform capable of handling a large community with diverse features.

Database Management

MS SQL Server: Leveraged for efficient database management, overseeing the secure and systematic storage of a vast array of user data and content.

Infrastructure Management

Hosting: Employed IIS and Windows Server to establish a secure and reliable hosting environment, ensuring a smooth and uninterrupted user experience.
Achievements
Vibrant Community: Successfully fostered a vibrant online community, connecting over 240,000 members globally and facilitating meaningful interactions.
Support Groups: Established 440 support groups offering a nurturing space for individuals to find support and share experiences.
Conclusion
FrontPoint has been instrumental in the creation and nurturing of Medwonders.com, a haven where consumers, patients, and doctors converge to share, learn, and support each other. Through a harmonized blend of technology and expertise, we have crafted a platform that vibrates with community spirit, offering a rich tapestry of experiences and support systems for individuals from all walks of life.
To translate the vision of Medwonders.com into reality, FrontPoint harnessed the following technologies:
ASP and ASP.NET: These frameworks were central in crafting a dynamic and interactive platform, facilitating a rich environment for community interaction and support.
MS SQL Server: Played a critical role in database management, ensuring the secure and organized handling of a substantial volume of user data and generated content.
IIS: Utilized as the web server platform, guaranteeing a reliable and scalable environment for hosting the vibrant community.
Windows Server: Ensured a stable and secure infrastructure through its hosting services, providing the backbone for the platform's operations.